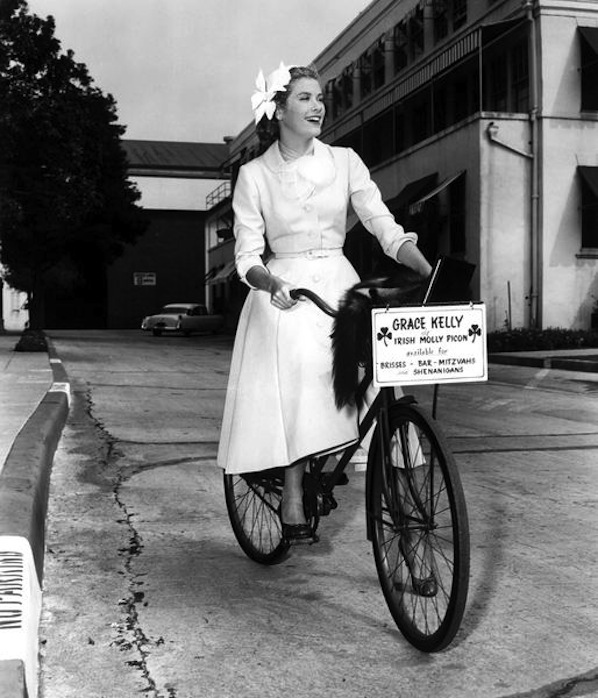 Since I bought a lovely vintage bike, I am fond of riding through Paris. But the main question is : how to cycle with style, without feeling uncomfortable or endangered?
High heels rule
In my opinion, it is easier to cycle than to walk with 12 inch heels. More, cycling is the right time to wear the sexy but painful stilettos you never managed to walk on.
On your legs
Let's wear suspenders and stockings : it's perfectly fine while cycling, even if nylon stockings might be a bad idea. I think they are a bit stiff to ride easily.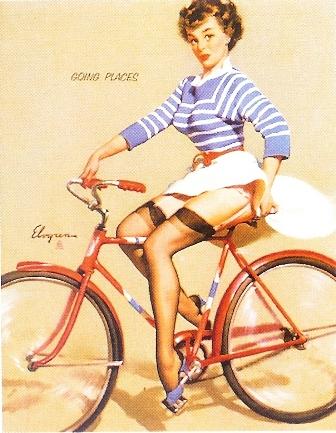 Garment
I love to cycle with a mid leg dress or skirt. It's pretty and easy : no technical troubles with fabric stuck in the spokes of your wheels! You may prefer shorter one, but be ready to show off a bit whenever you stop.
Don't: pencil skirt are just the worst idea on earth. Forget them or you will never cycle more then 2 meters.
Pants, especially 30's one, are a bit tricky : I ruined some of them on the chain of my bike… You should prefer short pants or skinny ones!
During summer, enjoy high waisted shorts : let's reveal your amazing legs !
Everything is possible on top, except maybe, 1910's corsets…
Gloves : is there anything classier on earth than a gloved hand? Well, cycling is the right time to wear your vintage driving gloves!
Wind in your hair!
Hairspray is your hair's best ally. I love to make big bun with 50's rolls when I am going out for a ride. With a lot of hairspray, this hairdo is impressive and strong!
Obviously, bike may not be bang fringe best friend…
Loose hair are casual and nice, especially if you wear a nice turban, and your ears will be thankfull (nothing more unpleasant than cold wind in your ears). I bought mine in this nice hand-made shop.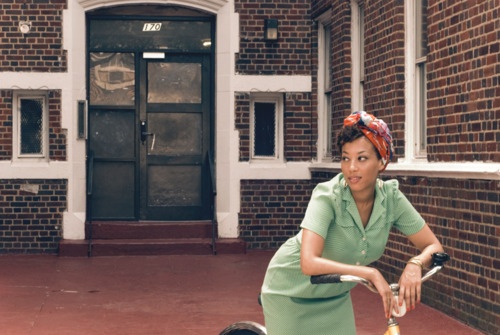 Last but not least, don't forgot your shoulder bag, slung accrocs your chest, or nice bags for your bike.
 Inspirations
Catherine Baba is one of the most elegant Parisian lady on bike! She is on every pictures except one…
What I love about cycling
I go faster than undesirable persons.
I am often bothered in street. On my bike I also feel a bit harrassed, but since I go faster, I allow myself to respond to these insults. I know… that's not the epitome of chic but it feels good, sometimes.